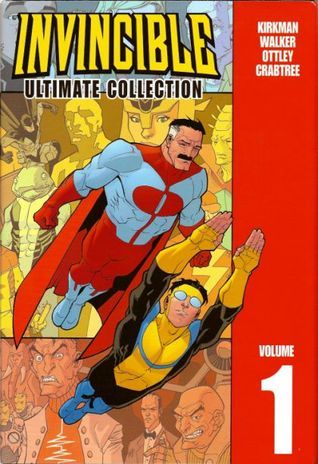 Howdy! This is my first post on Capeless Crusader. I'm super excited. I'm Mai, originally from Tattoogirl Reads. I'm fairly new to comics. Well, that's not true. I've read a whole hell of a lot of comics in Japanese, but I've never ventured into American comics and especially not ones with super-heroes until recently. (Like, end of last year recently.) I know jack and diddly about most comics. I think there will be times when you read my article and that you might shake your head, because you're embarrassed for me. But, hey, the point is for a noob to have a take on this, right?
What I knew about Invincible before reading: It's by Robert Kirkman who also wrote The Walking Dead (which I love). And I thought it was canceled. Apparently not. Right?
Thoughts after reading the first issue: It's about a family with a normal mom, a super-hero dad, and a nice kid in high school who is coming into his super powers. He gets his super-hero suit and calls himself Invincible.
It didn't seem all that awe inspiring. At this point I'm not sure why my husband and his buddies are all "Invincible is awesome. You're going to love it!" I'm guessing all that comes after the first issue.
If I were to have bought this in an issue I probably would have stopped there. The art is kind of plain, and the story, while nice, just isn't epic or deeply gripping. But since I have the whole volume…
Thoughts after reading the entire first volume: Wow. That was not at all what I was expecting. After reading a few of the complied issues I thought this was going to be a sort of slice of life super-hero story because it just seemed so… normal. But it's not. It's very thought provoking and leaves you completely stunned. I can't wait to get my hands on the next volume.
I really hate what happens in the story, and because of that it makes me love it so much more.