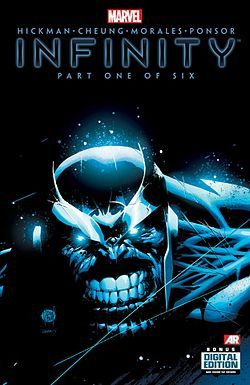 This one was really interesting to read. Here's why: because I only recognized Captain America, Iron Man, and Wolverine (who is just barely in the comic—only one image really). So, that said, I pretty much had no idea what was going on.
I knew this going in. When I bought it from my comic shop I actually made my first comic-lovin' friends (other than Josh Epstein) because of them telling me all the stuff I need to read to understand this.
– Thanos Rising
– Avengers
– New Avengers
– Infinity Gauntlet
But my personal goal with Point of Entry is to pick up a random volume/issue one and read it and see if I can follow and understand. This one, I couldn't. Those peeps at my comic shop were right, I did need to read some more stuff before I could understand this, but I think I might be a little different than some, because when I read something like this (that I totally don't understand) I use it as a tool. Josh can vouch for me when I say, I find something I like, or think I will like, then pick a comic-lover's brain. He's even had to pull in outside help to answer some of my questions. 😀
So, let me pick all of your brains, and please include comics I should read.
Questions:
1. Are all the characters that are in this characters that already existed prior to this comic? For example, there is a cast page with: the Illuminati, The Builders, Spaceknights, and Inhumans. These are all the ones I'd never heard over before this. Do they appear in other places or just in this comic.
2. Do comics in the Marvel world usually take places across the universe as opposed to just earth? I've been reading DC Comics, and from what I know it's usually only Green Lantern that takes place on another parts of the universe.
3. Who is Abigal Brand?
All that aside, here are my thoughts. The art is spectacular. If it wasn't as amazing as it was I probably would have stopped reading it. I would have stopped because I was just way out of my league on this one. I really did need to read other stuff before reading this one. I'm still going to attempt to read this again once I've read some other stuff in the Marvel world. I'm really appreciative of Hickman's valiant effort to include noobs with the cast diagrams and tiny summaries of different peoples, though I think the noobs he wrote this for weren't as green as me. Other than that I thought the Outriders were pretty damn cool. All sneaky and super scary like the Aliens monsters.
———
In the real world Tattoogirl is known as Mai Byers and is a store manager at a video game store. She loves all things nerdy but has only recently gotten interested in the American comic book scene. She writes the column Point of Entry and reviews books and comics incessantly. It's not just a clever name, she has 30 tattoos. Contact her at maibyers@gmail.com
———-