Updated (6/6/13)
Marvel has released the final teaser: this time with the complete roster. Use the Marvel AR app for more info.
Updated (6/5/13)
Marvel has released an updated teaser that reveals another two members of this team. Any guesses on who these icons represent?
Updated (6/4/13)
Marvel today posted an updated image, revealing an additional character for the as-yet-unnamed title.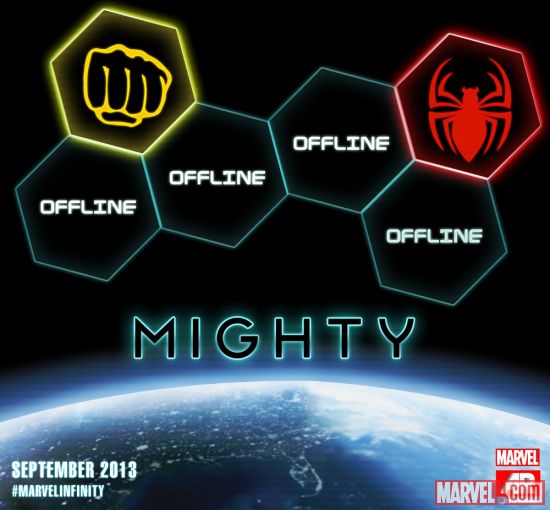 The logo is obviously a Spider-Man logo, but which Spider-Man, is the question? We've seen Spider-Ock (Spock??) fired from the Avengers, so determining what sort of team would have him as a member makes for an interesting question. Is it possible that we will see the return of Peter Parker to webslinging duties by September?
Stay tuned to find out…
———————————————————
In the latest of a string of minimalist teasers, Marvel Comics today released a teaser image asking "Who is MIGHTY?"
The image shows six available slots, one of which is filled with a yellow fist icon. This has led to some speculation in early chatter that the teaser is pointing to a relaunch of Mighty Avengers, ostensibly to feature Iron Fist.
What do you think, Crusaders? Sound off in the comments.
The full press release from Marvel can be found below.
[FROM THE OFFICIAL PRESS RELEASE]
Nothing Lasts Forever – Who Is MIGHTY?
From the battlefields of Infinity comes a new team to protect Earth!  With the Avengers light-years away in space, contending with the Builders, and Thanos's marauders ransacking the Earth, doing as they please – who will stand in defense of mankind? Want more? Using your camera enabled device combined with the Marvel AR app, get the inside look on this brand new team by using this image!
To find a comic shop near you, visit www.comicshoplocator.com or call 1-888-comicbook. 
Marvel Entertainment, LLC, a wholly-owned subsidiary of The Walt Disney Company, is one of the world's most prominent character-based entertainment companies, built on a proven library of over 8,000 characters featured in a variety of media over seventy years. Marvel utilizes its character franchises in entertainment, licensing and publishing. For more information visit www.marvel.com