For those of you unaware, last week the American collector's edition of the highly anticipated Batman Arkham Origins was announced. It's announced only for current generation consoles and the PC. (Sorry to the peeps who have no system because they traded everything for the XBOX ONE and the PS4).
It will include:
– A premium Joker statue with LED accents
– eighty-page hardcover book
– Anarchy stencil
– Glow in the dark map of Gotham
– Batman Wanted Poster
– Wayne family photo
– Necessary Evil: Super-villains of DC Comics
– Gotham Police Evidence
– Skins and Challenge Packs
– PS3 Will also include exclusive Knightfall DLC pack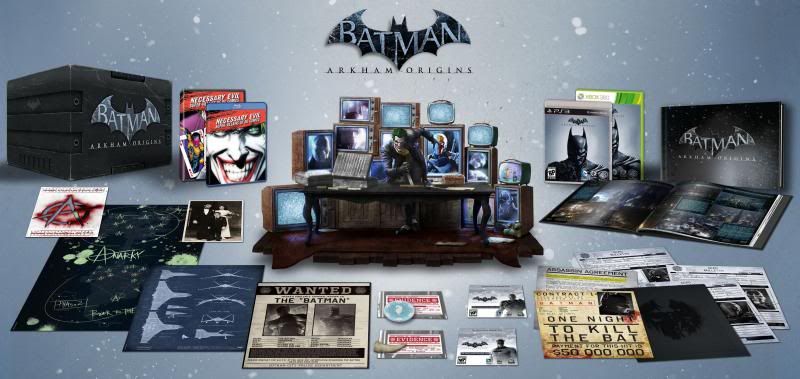 What will this bad boy set you back? $119.99. I think it's worth it since I've already switched my preorder over. They might go fast so make sure you get to your store of choice and preorder it pronto!
I'll be getting my copy on October 25. How about you?
———
In the real world Tattoogirl is known as Mai Byers and is a store manager at a video game store. She loves all things nerdy but has only recently gotten interested in the American comic book scene. She writes the column Point of Entry and reviews books and comics incessantly. It's not just a clever name, she has 30 tattoos. Contact her at maibyers@gmail.com
———-