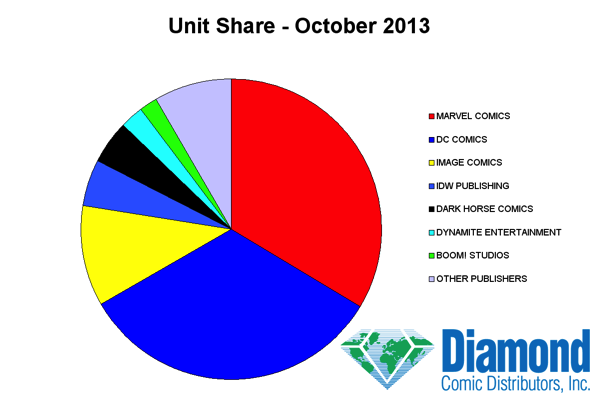 The comic book market is in the midst of a sales renaissance. In the last year, overall North American dollar sales of Diamond's comics, trades, and magazines is up 9.95%, while overall unit sales for the same period are up 9.46%. (SOURCE: Comichron)
But, there's a problem.
The fact of the matter is that there is a distinct lack of accurate and transparent reporting, not just in the print comics sector, but across all market segments. The only numbers available to the public (comic journalists included) are distributor-level sales as reported by Diamond. For those unfamiliar, this means that the weekly and monthly sales numbers reflect what Diamond sells to comic shops, not what shops sell to customers. Bleeding Cool releases a weekly Best Seller list "as compiled by a number of comic stores from their sales on Wednesday and Thursday," measuring the key "Wednesday Warrior" demographic, but even this falls well short of a complete picture. While anecdotal evidence from retailers on the ground helps fill in some of the blanks when it comes to the overall market, the lack of retailer-lever reporting beyond the hearsay means that there is no way to know for certain which books are actually selling and which books are languishing in storage rooms, destined to someday wind up in the dollar bin.
Further complicating the issue is the lack of transparency in the reporting of digital comics sales. ComiXology is the industry-leading platform with total unit sales in excess of 100 Million for 2013, but it is all-but impossible to determine how that number breaks down into individual title sales. While ComiXology most assuredly knows the breakdown of titles being purchased by their customers (who's reading cape books, who's reading indie books, etc.) they do not report individual title sales for any company, much less reader pull lists. Nor are they the only game in the digital town: Amazon, iTunes, and even publishers themselves now offer titles directly to consumers without the brick-and-mortar retailer to serve as a middleman. Even with this much penetration, no one wants to talk about what books they're selling or how many. ComiXology isn't talking, and publishers like DC Comics' Jim Lee, co-publisher of DC Entertainment, will only speak in the most general of terms regarding their digital revenues, telling audiences at this year's San Diego ComiCon "The triple digit growth slope's not as steep as when we launched, but we're having tremendous success with books like the Injustice game tie-in." Considering that this segment of the market is growing faster than any other, increasing from $25 million in annual sales in 2011 to $70 million in 2012, there is no excuse for either concealing or ignoring specific sales data. By virtue of its online nature, replete with user-specific information on buying habits, title selection information and more, data from the digital market has the potential to be a massive boon to publishers as they determine what approaches are working with which demographics and tailor their approaches accordingly.
So, you may ask: what is the solution?
The answer to that question is two-fold:
1. One Software To Rule Them All
There is not a single comic book sold in a comic shop that does not come equipped with a UPC code, allowing retailers to track the numbers on specific books. Many retailers, of course, already track these numbers in house. The market runs into trouble because the information is compartmentalized between the 2500+ comic shops operating in North America, not to mention overseas outlets. Each of these shops knows what they're selling in-house and tracks it on the retail software of their choosing (assuming they're not still running on a hand-cranked cash register). With such a broad variety what the market truly needs is an industry-standard software that will allow them to share information with the rest of the shops and with the market at-large—similar to the way most client-based corporations use compatible software suites such as Siebel Client Resource Management.
The major source of resistance to an idea like this would be from smaller retailers, who could potentially be placed at a disadvantage by sharing their data with higher-volume establishments. But in an environment where few shops are geographically positioned to be competing with one another, the benefits would seem to outweigh that risk.
2. Transparent Digital Reporting
The platform operators like ComiXlogy know what they're selling. From the sound of it, so do the publishers. So, why won't they share that data with the general public or even comics journalists? What reason could they have to keep this data under wraps? Unless there is a satisfactory answer to that question, then both the platformers and the publishers should get to work on making this information available, which can't help but grow the digital sector of the market.
As always, we want to know what you think. Do you see the lack of transparency as a problem for the market? What solutions do you see available? Let us know in the comments!
—–
Josh Epstein is the Publisher for the Capeless Crusader website. He also hosts the weekly Infinite Crossover podcast in cooperation with Fanboys Inc. He's a lifelong comic nerd, and "Superman" is the first word he ever read aloud. He is also an actor, singer, and daytime supporter of all things technical. contact: joshuadepstein@gmail.com
—–