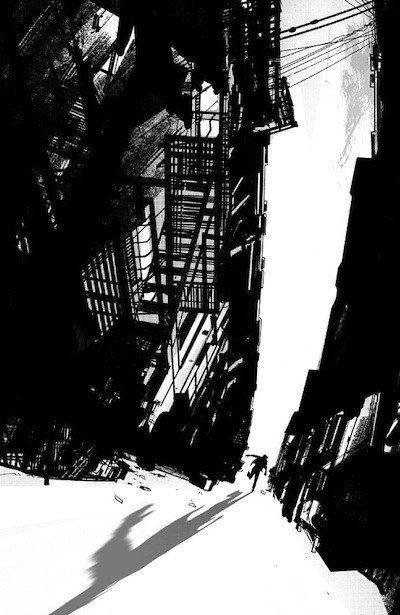 Andy Diggle crafts a story that seems simple enough at first but, by the end of the issue, shows that there is something deeper under the surface. Jake is an ordinary guy who works at a local comic book store who figures he hit the jackpot when he found a "fancy-schmancy" smartphone while on his way to work. From there it's all down hill for Jake, when he finds pictures of a murder victim on the phone. The dialogue is amusing and the characters feel like real people who you find yourself getting attached to rather quickly. I found myself saying, "Nooooo," out loud because of what happens to one of the characters in the last couple of pages, due to this. Conversations between Jake and his regular, Steve, are entertaining and help to move the story along without feeling like the comic is rushing to get to some action. I feel like the comic could have been Jake and Steve just talking and not even have a plot (Seinfeld bassline). In all seriousness, one of my favorite bits of dialogue is the Clerks-esque moment where a guy comes in asking, "Do you keep stationary?" and Jake and Steve retort with "For hours at a time," and "Some days we barely leave the couch," before the man leaves in a huff.
Jock's art in this book is great, but something feels lacking. Maybe it's just me but I feel that if this book wasn't just black and white and there was some color it would pop a little more. That's not to say I don't enjoy black and white comics because I'm a fan of 2000AD, a book which features many stories in black and white. Perhaps I'm just accustomed to seeing Jock's work colored, ala Green Arrow: Year One and The Losers, but I just feel his work shines a bit more in those books than this one.
All in all, Snapshot is a pretty good read and worth checking out, especially considering it's a limited series and at one of the lower price points ($2.99). If you're looking for something different and not having to do with superheroes, pick this up. I know I will.
—–
Joseph Torres, a mysterious character who aids the forces of law and order, is in reality, Lamont Cranston, wealthy young man-about-town. He is a Marvel News Reporter for Capeless Crusader and aspiring comic book writer. His favorite 'Big 2′ comic book characters are Marvel's Moon Knight and DC's The Flash. If you want to reach him for something pertaining to reviews or comic news, or, heck, to argue who'd win in a fight between comic book characters you can contact him at jtorres3186@gmail.com