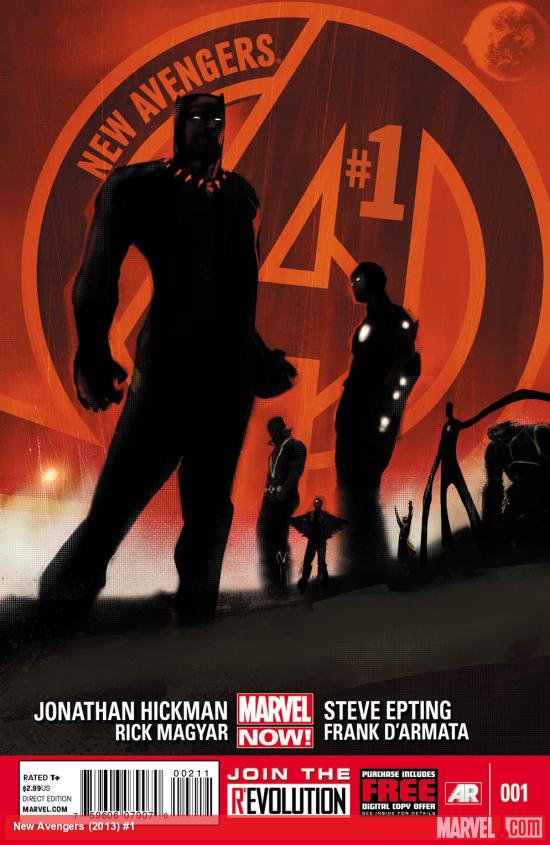 New Avengers, originally created in 2005 by writer Brian Michael Bendis, sees its first issue relaunched today with Jonathan Hickman at the helm. If you've read Jonathan Hickman's run on Fantastic Four, you know that every issue and/or story arc is just a single piece of an even larger puzzle, and the first issue of New Avengers is no different.
The series, which Hickman says "..is the book I always wanted to write at Marvel" has a bleak, ominous feel right out the gate. Hickman foreshadows disaster with a flashback to the Illuminati's formative meeting and Black Panther's subsequent refusal to join. This sense of impending doom is only furthered on the credits page with two words, Memento Mori, that will lay a foundation for the rest of  the issue and set us up for issue #2. Memento Mori, which is Latin for "remember your mortality," is exactly what Black Panther comes face to face with when a seemingly average day in Wakanda goes wrong. The events that transpire are enough to shake T'challa to his core and only hints at what threats may be in store for the rest of this series.
Hickman's dialogue is concise and smart without being trite or cheesy. The side characters are well thought out, each with their own voice, and seem like they could have been around for longer than this issue. As for the main characters, you don't see much of anyone other than Black Panther, but if you enjoyed Hickman's treatment of Black Panther in Fantastic Four, there's nothing to dislike about the character here. T'challa is proud, intelligent, brave, and regal, but at the same time humble, and Hickman depicts this well. So when Black Panther becomes desperate enough to reconsider the decision he made, it makes whatever danger on the horizon seem huge, especially given how big Hickman says the scope of his run on Avengers will be.
The art in this book is brilliant. The pencils, inks, and colors are all exactly what you'd expect from an Avengers title. Steve Epting, who followed Hickman from Fantastic Four, does good work, but this issue doesn't see anything too grand. Epting moves the story along well from panel to panel, but I feel the real stand out in the art comes from the color artist, Frank D'Armata. The way the color templates change from the browns of the Illuminati flashback, to the bright greens and blues of Wakanda, to the reds used when things go bad is amazing. I'm looking forward to seeing how this art team handles things when the story gets far more dark and tense and the action gets heavy.
In an interview with Comic Book Resources, Hickman stated, "I've said in other interviews that thematically 'New Avengers' and 'Avengers' are two sides of the same coin. The 'Avengers' is about life, and 'New Avengers' is about death. One book is about day and the other is about night. One is about light the other is about darkness," and while we may not fully know what he means by that, we may just start to understand with this issue. Avengers is a much more hopeful book than New Avengers. For example, when trouble showed up in Avengers there was a back up plan to call on more help, and by the end of the book you had hope that The Avengers would make it through their ordeal. By the end of New Avengers, however, you have Black Panther broken down by the events of the comic and praying to his goddess to help save him from the decision he just made. Avengers seems to be taking a more progressive approach in the way they handle problems, trying to find new ways to combat even bigger threats, but New Avengers is conservative, playing everything close to the chest. Much like today's society, they're two very different groups coming at problems in very different ways, and it will be interesting to see how Hickman plays on this further in the future.
Thankfully, since Hickman talks about the duality of Avengers and New Avengers, this book is a good read. New Avengers sets up the series well and given all the promises Hickman is making about the series, I'm sure we're all in for a wild ride.
—–
Joseph Torres, a mysterious character who aids the forces of law and order, is in reality, Lamont Cranston, wealthy young man-about-town. He is a Marvel News Reporter for Capeless Crusader and aspiring comic book writer. His favorite 'Big 2′ comic book characters are Marvel's Moon Knight and DC's The Flash. If you want to reach him for something pertaining to reviews or comic news, or, heck, to argue who'd win in a fight between comic book characters you can contact him at jtorres3186@gmail.com