Earlier this morning, the following press release was sent out from Black Mask Studios, an upstart independent comic distributor who will be releasing a number of creator owned titles this spring. The most anticipated, and definitely that which has begun to arouse the most curiosity, is the Occupy Comics anthology. Here are the details from that press release:
Occupy Comics launches Creator-Owned Initiative
Seeks to support independent comic book creators against Marvel's/DC's duopoly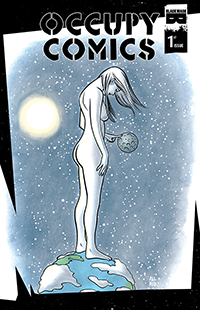 Occupy Comics, the anthology series inspired by Occupy Wall Street that drew together the largest coalition of socially-conscious comics creators since ever, including Alan Moore (Watchmen, V For Vendetta), David Lloyd (V For Vendetta), Art Spiegelman (Pulitzer-winning Maus), Charlie Adlard (The Walking Dead), Steve Niles (30 Days of Night, Criminal Macabre), Molly Crabapple (Shell Game), Joshua Hale Fialkov (I Vampire), Riley Rossmo (Bedlam), Tyler Crook (Petrograd), Ales Kot (Wild Children), Joshua Dysart(The Unknown Soldier), J.M. DeMatteis (JLA, Spider-Man, Imaginalis, Brooklyn Dreams), Mike Allred (Madman, FF), Ben Templesmith (30 Days of Night), and dozens more, has announced an effort to support independent comics creators with its "Creator-Owned Initiative." Organizational spearhead Matt Pizzolo said: 

One of the themes that's emerged in the Occupy Comics contributions is for people to 'occupy' the comics market by supporting independently-produced, creator-owned comics rather than the 1% of comics: Disney- and Warner Brothers-owned megacorporations whose empires were built on the backs of creators like Siegel, Shuster, Kirby, Ditko, and so many more. With that in mind, it seems Occupy Comics can be a helpful way to encourage diverse readers to discover more creator-owned comics. So we'll be taking the ideas of Occupy and implementing them locally in the comic market. 
"Occupy Comics #1," scheduled for release in comic shops and digitally on May 1st, will include a download code that opens up a digital storefront filled with free #1 issues of excellent creator-owned comics series.
All Occupy Comics profits will be donated to current Occupy-related initiatives, such as Strike Debt, Rolling Jubilee, and rescue efforts like Occupy Sandy.