SITUATION:
There is an awful lot starting in comics this week, so it's a good thing that we had Labor Day to get ready. With all publishers combined, there are sixteen #1 issues hitting shelves, with the surprising wrinkle that very few of them are coming from either DC or Marvel. Both of the Big Two are beginning large-scale events which, despite the hyperbole of their solicitation text, bear watching closely. This week's indie selections are all interesting for very different reasons, but are all excellent jumping-on points for either new series or continuing adventures of beloved characters.
THIS WEEK'S SELECTIONS:
1. "God Is Dead #1"

In a rare move publishing outside of either Image or Marvel Comics, Jonathan Hickman's latest offering looks to explore the repercussions that stem from the return of ancient mythological figures to the modern world.
Given the writer's proclivity for critiquing the writ an reach of religion, watching how societal structures are shifted by the reintroduction of entities such as Zeus, Odin, and Horus is worth looking into.
Hickman has shown a deep and abiding fascination with the history and personality of iconic figures throughout history, and that research is sure to feature strongly in the depictions of these characters throughout the story.
Artist Di Amorim is known mostly for his work on Brian Pullido's Lady Death series, so it will be interesting to see how his medieval sensibilities are conveyed in a more modern setting.
Hickman has been on quite a run in the last year or so with Secret, East of West, Avengers, New Avengers, and Manhattan Projects and fans of the writer will be watching closely to see if God is Dead continues the recent period of excellence or if it anything more than standard fare.
2. "Baltimore: The Infernal Train #1"
Dark Horse has recently followed a somewhat unique way of publishing ongoing characters, releasing individually numbered and titles arcs rather than a continuing title in which these are simply episodic stories.
Baltimore is one such example, and this title marks the character's return to what is ostensibly his primary quest, which is to find the fiendish creatures who killed his loved ones. While he has a couple of arcs under his belt already, Mike Mignola's obsession-driven vampire-hunter is finally getting to the core of what drives him, and this contained tale should be a very entertaining one to read.
..
3. "Reality Check #1"

Written by Glen Brunswick, Reality Check is the story of Willard Penn, the creator of a Batman-esque anti-hero named Dark Hour. In what sounds at first glance like a comic-books-meet-Last Action Hero-style tale, Brunswick explores what happens when the socially isolated writer is forced to reengage with the world, as his hero jumps off the page and into his life, demanding his help.
In an interview with CBR, Brunswick stated that the title will delve into how the fictional characters of the Dark Hour comic book behave in the real world, a consequence of having been removed from the restrictions of the 2-D world they had previously occupied.
Littered with references to back-room dealings and maneuverings by real-world comic book publishers, the meta-textual aspects of the title are themselves alone enough to justify a good look.
.
4. "The Star Wars #1"

As audiences the world over have come to know, unedited George Lucas tends to go to extremes, for good or ill.
It might be good; it might be bad; it will be weird. Han Solo as a big green alien? That's weird. Luke being the wizened Jedi general and Anakin as the doe-eyed farmboy? Yep, that's weird too.
With Lucas finally removed from the helm of the actual Star Wars universe that he created, a look back at his original concept taken in the context of over thirty years of history should be fascinating at the very least.
.
5. "Forever Evil #1"

DC's approach to this event is a classic example of a full frontal, company-wide Event. Forever Evil is the core title in a branding that will encompass nearly every monthly book which DC publishes. The villains of the DC Universe, in the aftermath of Trinity War, have apparently become ascendant.
If you're feeling like Grant Morrison just did this in Final Crisis, you may not be far off. It would seem that many of the same themes are being approached here, with heroes sidelined and villains taking center stage. Where Final Crisis suffered somewhat for its experimental structure, Geoff Johns is a much more traditionally linear storyteller, so this event should be far easier to understand on a first reading than its predecessor.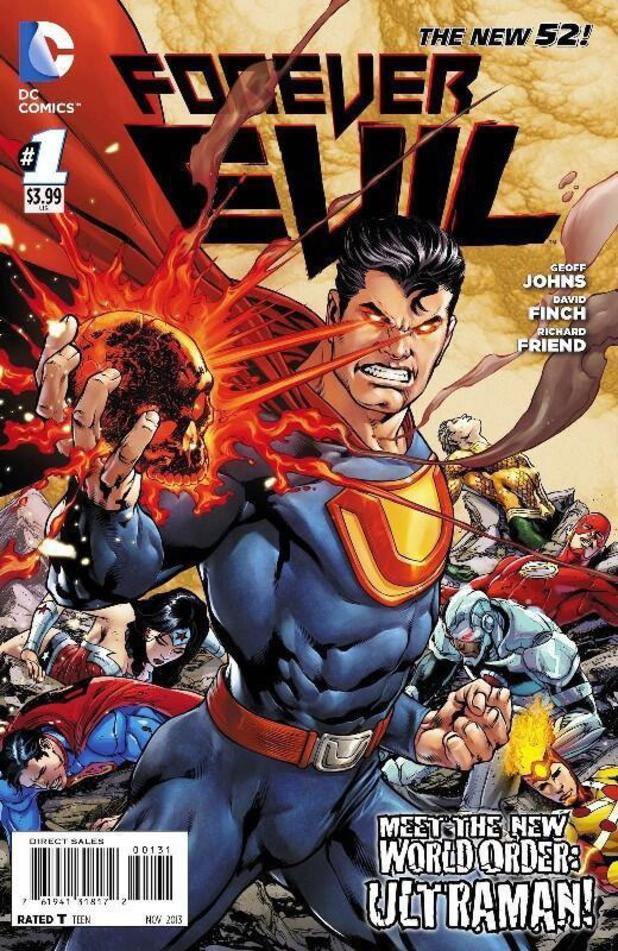 Also interesting is the New 52 introduction of the Crime Syndicate of Amerika. Recent indications have pointed toward an expanded focus on DC's multiverse. The recent conclusion of Legion of Super-Heroes intimated that the title had all along been taking place in the distant future of DC's Earth-2 title.  With Grant Morrison's Multiversity still on the somewhat nebulous horizon, the decision to showcase the super-humans of another Earth is a move that suggests DC is open to exploring every nook and cranny of the company's library.
6. "Battle of the Atom #1"
In contrast to their competitor, Marvel's Battle of the Atom is much less a universe-spanning Event and much more a family crossover between the X-books. Granted, Marvel has X-books aplenty
CBR's Dan Zawisza has a great advance review of the first issue which, while providing no spoilers, indicates that the title does everything necessary in a crossover event's first issue, which is identify the characters, set a tone, and identify the conflict.
The story itself is quick and exciting, touching on the past, glimpsing the future and exploring the present. Everything a reader needs to know about the X-Men is right here, waiting to initiate new readers and bolster the attention of X-fans who have stood by all along.
The story will deal with the ramifications of a time-displaced team of X-Men, something Marvel has been quite keen on lately. The recent Age of Ultron event drew heavily on the idea that characters' constant tampering with time has had long-term ramifications. Once multiple events have begun to link together with a single idea, it bears speculating as to whether or not Marvel is building towards something that will profoundly effect time.
Wh.
.
ANALYSIS
There's a lot to like on this week's list. Each of these books features a real world issue, with the exception of Superior Spider-Man, but that book would be notable for the way in which its release was handled online, even were it not an excellent story. Hopefully you enjoyed our picks, and we'll see you soon!
********************************
Thanks for checking out ADVANCE SCOUT! Be sure to check back next week for more recommendations, and don't forget to share the link below!
WHAT IS ADVANCE SCOUT?
Each week, the Capeless Crew picks out those books that we think are most worthy of your dollars and attention. These books are chosen based on a variety of qualities, including relevance to real-world issues of the day, their sheer excellence as examples of the medium and often with an eye towards the importance of a given book within the context of the comics industry.