In this morning's Cuppa Comics, one of the stories we told you about was an analysis of the competing media companies behind the various comic book publishers. In looking at this further, it occurred to me that an opportunity exists for Disney/Marvel to truly conquer the comics throne.
Missing from all of the analysis was any mention of the properties owned and/or licensed by Dark Horse Comics. For reasons which we'll get into below, Marvel and Dark Horse are a perfect fit, and the House of Mouse might do well to consider bringing Dark Horse under their banner.
1. Intellectual Property
Disney has shown a willingness and a desire to acquire a variety of intellectual property libraries in their bid to become the single largest multimedia conglomerate on the planet.
In the last four years they have acquired, lock, stock and barrel, both Marvel Comics along with its attendant collection of film franchises, and Lucasfilm, bringing it one of the ultimate prizes of geekdom: Star Wars.
Outside of Marvel's main competitors at DC, Dark Horse holds the largest library of intellectual property on the market. Their offerings include Conan, not to mention Hellboy/BPRD and the ever-growing library of mystical pulpy characters that continue to spring forth from the mind of Mike Mignola.
Bringing these properties under Disney's umbrella would provide them with a secondary set of characters to exploit when the super-hero film bubble finally bursts, as well as a host of other advantages.
2. Diversity of Content
Right now the Marvel brand is relatively limited. When compared to the tone and scope of projects offered by Vertigo over the last decade, that offering looks even more meager. Marvel Comics have tended, with rare exceptions such as licensed work like Castle and Dexter, to stick to the "long underwear brigade", focusing on tried-and-true properties that have been their long-term staples.
With the addition of a satellite publishing house, Marvel would have a venue for projects that don't fit the Marvel style, tone, or what have you, while still retaining access to their top-flight marketing and promotional apparatus.
3. Vertigo of Marvel
Right now, there is already a good amount of crossover between the two publishers, with creators like Kelly Sue DeConnick (Ghost) and Brian Wood (The Massive) doing much of their creator-owned work there. Acquiring the imprint would allow Marvel to utilize a publishing house that would ideally retain key staff in much the same way that DC does Vertigo; as a space in which it's flagship creators can do work that falls outside of the mainstream and that they would like to own.
The addition of a non-"mainstream" studio to Marvel's org chart would provide creative opportunities for new talent that would, for all intents and purposes, be developed by Marvel in much the same way that pro sports franchises use minor and developmental leagues as farm systems for their top-tier brands.
4. Cements Ranking as Top Comic Publisher/Studio
Right now, comic book publisher rankings go like this, in terms of market share:
| | |
| --- | --- |
| Marvel | 36.47% |
| DC | 34.07% |
| Image | 6.79% |
| Dark Horse | 4.61% |
Source: ComiChron
Now, obviously Marvel is currently seated atop the hill. Having reached that impressive summit, however, the question now becomes how to retain the title. The recent acquisition of Archaia by Boom! Studios (ranked 7th by ComiChron) shows that the comic marketplace is by no means static. There are any number of smaller, independent houses near the bottom of the rankings which are ripe for consolidation. That said, if Disney wants to ensure long-term domination of the industry (and what company doesn't?), they could do far worse than to pair the market share of the fourth-ranked company with their top-ranked crew, creating a comics juggernaut whose will would be nearly impossible to defy.
5. Keep Dark Horse Alive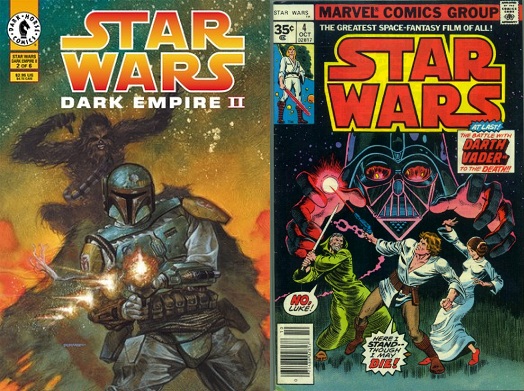 With deadlines looming for Disney to regain the publication rights to the Star Wars library, the clock is ticking for Dark Horse. They have a wide selection of books that should continue to do well outside of the expiring license, but the loss of such a significant revenue stream can't help but have a noticeable impact on the company's operations. Rather than significant downsizing, acquisition by Disney would allow Dark Horse to retain the talented creative teams that they have working on licensed titles such as Brian Wood's "Star Wars", as well as continue to publish those series, rather than see them rebooted and renumbered under the mainstream Marvel banner.
The Verdict
In the final analysis, it is difficult to see why Disney/Marvel would not execute a move like this. They would shore up their dominant position as the top comic book publisher while also adding significant depth to their IP library for the future. They would ensure the continued success of long-term licensed properties and have an avenue to reward and develop talented creators.
Let us know what you think in the comments!